Description
The Fimap MR100B Refurbished Ride On Battery Floor Scrubber Dryer Is Ideal For The Maintenance Cleaning Of Areas Up To 6,500 sq.m. In Factories, Supermarkets, Car Parks, Hospitals, Nursing Homes, Airports And Stations.
SUPPLIED A COMPLETE AND READY-TO-USE MACHINE!
Complete With: Wet Battery Kit, External Charger, Brushes or Pad Boards, and Squeegee Blades.

The MR100B is an innovative ride-on scrubbing machine that boasts an advanced automatic traction drive and operates on battery power. With an impressive working width spanning 100 centimetres, it effectively covers a larger surface area with each pass. Fimap, the manufacturer, has incorporated cutting-edge technologies into the MR100B to ensure optimal resource utilisation while minimising consumption and waste. Furthermore, we have meticulously engineered the machine to ensure it offers user-friendliness. Thereby eliminating the requirement for incurring extensive training expenses. With its comprehensive range of features, the MR100B not only simplifies cleaning tasks but also promotes eco-conscious practices, making it an ideal choice for both efficiency and sustainability.
Key Features of the Fimap MR100B Refurbished Ride-On Battery Floor Scrubber Dryer:
Distinct Set of Features:
The MR100B stands out in the market due to its unique set of features.
Remarkable Economic Benefits:
This refurbished ride-on floor scrubber dryer delivers significant economic advantages, including enhanced operational efficiency and reduced labour requirements.
Enhanced Cleaning Operations:
Leveraging its distinctive attributes, the MR100B enables more efficient cleaning operations, contributing to improved overall cleaning performance.
Decreased Labor Requirements:
The advanced technology incorporated in this equipment results in decreased reliance on manual labour, leading to cost savings and increased efficiency.
Expedited Cleaning Processes:
The MR100B facilitates expedited cleaning processes, reducing cleaning times and enhancing overall productivity.
Cost Savings:
By effectively reducing the need for manual labour, this floor scrubber dryer contributes to cost savings, making it a financially advantageous solution.
Improved Productivity:
The equipment's features work synergistically to improve productivity, making the MR100B a valuable asset in commercial and industrial cleaning applications.
Substantial Economic Advantages:
Overall, the Fimap MR100B Floor Scrubber Dryer stands out as a valuable solution that offers substantial economic benefits to businesses and facilities.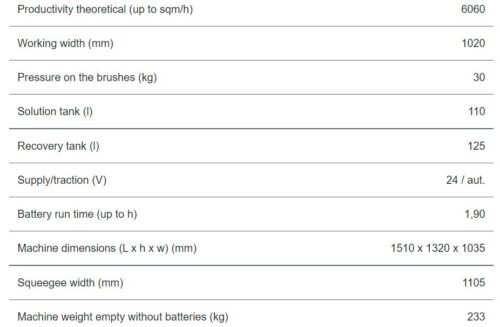 How Are Our Machines Refurbished?

Bodywork is cleaned, restored and treated to look as good as new. The machines are then supplied:
– Fully Serviced
– With New Consumables, Filters, Brushes, Blades Etc.
– With All Accessories Required For Immediate Use
– Set-up & Tested
– Ready To Go!
Why Buy From Us?:
– Free Advice
– Training Available
– Try To Buy Available
– Spread Your Costs With Optional Finance
– 6 Months Guarantee On All Machines
– 12 Months Guarantee On All Batteries
– Full After Sales Back-up & Support