If you're looking for cleaning machines to clean hardwood floors, there are many different types of cleaning machines that can be used, depending on the specific cleaning needs of a facility. In order to help you choose the right cleaning machine for your application, choose the category that best suits your needs below: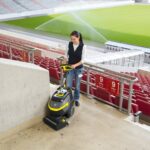 Floor Scrubber Dryer to Clean Hardwood Floors
A floor scrubber dryer is a powerful cleaning machine that can effectively clean and maintain hardwood floors. With its combination of water, cleaning solution, and brush agitation, a floor scrubber dryer removes dirt, grime, and scuffs while restoring the shine of hardwood floors. This machine is ideal for heavy-duty cleaning tasks, making it a top choice for facilities with high foot traffic. The floor scrubber dryer's ability to scrub and dry in one pass is a major time-saver, allowing for quick and efficient cleaning. Using a floor scrubber dryer as part of a regular maintenance program can help extend the life of hardwood floors and keep them looking their best.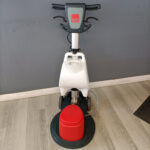 Rotary Buffer and Scrubber to Clean Hardwood Floors
Cleaning hardwood floors with a rotary buffer and scrubber is an efficient and effective method to remove dirt, grime, and scuffs while restoring their shine. The rotary motion of the buffer combined with the scrubbing action of the brush agitates and lifts dirt, providing a deep clean for hardwood floors. This top cleaning machine is perfect for removing tough stains and restoring the natural beauty of hardwood floors. Incorporating a rotary buffer and scrubber into your cleaning routine can help maintain the longevity and appearance of your hardwood floors.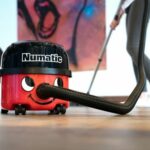 Vacuum Cleaner to Clean Hardwood Floors
A vacuum cleaner is an essential tool for cleaning hardwood floors, as it can effectively remove dirt and dust without causing damage to the floor's surface. It's important to use a vacuum cleaner specifically designed for hard flooring or one with a hard floor setting or dusting brush attachment to avoid scratching the hardwood. The suction power of a vacuum cleaner can pick up particles that are not visible to the naked eye, ensuring a deep clean. Regular use of a vacuum cleaner on hardwood floors helps to maintain their shine and beauty, making it a top cleaning machine for hardwood floor maintenance.
Hardwood floors are a beautiful and durable addition to any home or commercial space, but they require proper maintenance to preserve their appearance and longevity. Cleaning hardwood floors is an important part of maintaining them, and using the right cleaning machines can make this task much easier.
Why is Cleaning Hardwood Floors Important?
Hardwood floors are a long-term investment, and proper care and maintenance will ensure they last for many years to come. Dust and dirt can accumulate on the surface of hardwood floors, causing scratches and dulling the finish. Additionally, spills and stains can leave permanent marks if not cleaned up promptly. Regular cleaning of hardwood floors will keep them looking beautiful and extend their lifespan.
Conclusion
Using the right cleaning machines for hardwood floors can help keep them looking beautiful and extend their lifespan. Regular cleaning is an important part of maintaining hardwood floors, and using the best cleaning machines for the job will make the task much easier. Investing in high-quality cleaning machines for hardwood floors will pay off in the long run by preserving the beauty and longevity of your floors. Why not check out our other tips and tricks here?
Check out our new range of steam cleaners at https://www.steamcleansystems.co.uk/
Cleaning Equipment Services Ltd hire and sell a wide range of top-of-the-line cleaning equipment from industrial vacuums and floor scrubbers to pressure washers and floor polishers etc. We're always available to answer any questions and provide guidance on the best cleaning methods and procedures. We're also very patient and accommodating with explaining the operation and maintenance of the equipment.