If you're looking for cleaning machines to clean linoleum floors, there are many different types of cleaning machines that can be used, depending on the specific cleaning needs of a facility. In order to help you choose the right cleaning machine for your application, choose the category that best suits your needs below: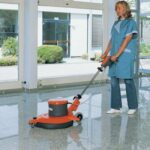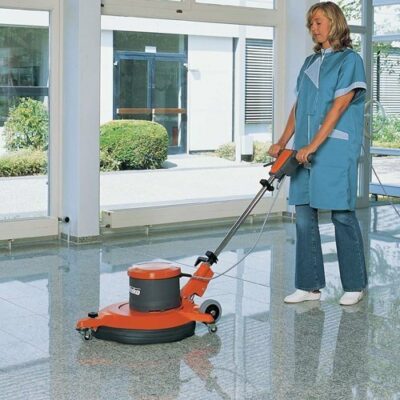 Orbital Floor Machine to Clean Linoleum Floors
Cleaning linoleum floors with an orbital floor machine is an effective and efficient way to maintain the appearance of your flooring. The machine's rotating brush or pad agitates the surface of the floor, loosening dirt and grime, while the suction system captures and removes the debris. This method is gentle enough to not damage the linoleum material while still providing a deep clean. Using an orbital floor machine is a convenient way to keep linoleum floors looking their best with minimal effort.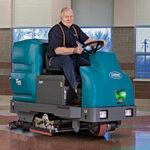 Hard Floor Scrubber to Clean Linoleum Floors
Cleaning Linoleum Floors with a Hard Floor Scrubber is a quick and effective way to keep your linoleum floor looking its best. The scrubber uses rotating brushes to scrub away dirt and grime, leaving the surface clean and refreshed. The compact design of the scrubber makes it easy to manoeuvre around furniture and tight spaces, ensuring a thorough cleaning every time. With adjustable speed control, you can adjust the speed of the scrubber to accommodate different floor surfaces and get the perfect level of scrubbing power. This machine is essential for anyone who wants to maintain the beauty of their linoleum flooring.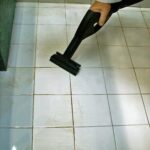 Steam Cleaners to Clean Linoleum Floors
Steam cleaners are a great option for cleaning linoleum floors as they are effective in removing dirt, grime and bacteria without the use of harsh chemicals. The high temperature steam can penetrate deep into the surface, dissolving and removing tough stains and built-up dirt, leaving the linoleum floor looking clean and refreshed. This is an environmentally friendly solution that is suitable for homes with pets and children as there is no residue left behind. The heat from the steam can also help to sanitise the floor, making it a safe and hygienic choice for linoleum floor cleaning.
Why is Cleaning a Linoleum Floor Important?
Linoleum floors are a popular choice for many homeowners due to their durability, ease of maintenance and affordability. However, over time, even these tough floors can become dull and dirty, losing their shine and luster. This is where cleaning machines come in handy, making it easier to keep your linoleum floors looking their best.
One of the most effective cleaning machines for linoleum floors is the Orbital Floor Machine. These machines are designed to provide deep, thorough cleaning without causing damage to the floor surface. The Orbital Floor Machine uses a rotating brush head to agitate the dirt and grime on the floor, breaking it loose and removing it from the surface.
Another popular option for cleaning linoleum floors is the Hard Floor Scrubber. This machine uses a combination of water, cleaning solution and a scrub brush to effectively clean and sanitise the floor surface. The Hard Floor Scrubber is especially useful in heavy-traffic areas, where dirt and grime can build up quickly, leaving the floor looking dingy and unsightly.
Steam cleaners are another option for cleaning linoleum floors. These machines work by heating water to produce steam, which is then applied to the floor surface. The heat from the steam helps to loosen dirt and grime, making it easier to remove with a mop or cloth. Steam cleaners are particularly effective in removing tough stains and are great for sanitising the floor surface, making them an ideal choice for households with young children or pets.
Conclusion
In conclusion, keeping your linoleum floors clean is essential for maintaining their appearance and longevity. With the right cleaning machine, this task can be done quickly and effectively, leaving you with a clean, bright and shining floor. Whether you choose an Orbital Floor Machine, Hard Floor Scrubber or Steam Cleaner, you can be confident that your linoleum floors will look their best for years to come. Why not check out our other tips and tricks here?
Check out our new range of steam cleaners at  https://www.steamcleansystems.co.uk/
Cleaning Equipment Services Ltd hire and sell a wide range of top-of-the-line cleaning equipment from industrial vacuums and floor scrubbers to pressure washers and floor polishers etc. We're always available to answer any questions and provide guidance on the best cleaning methods and procedures. We're also very patient and accommodating with explaining the operation and maintenance of the equipment.