If you're looking for cleaning machines to clean bamboo floors, there are many different types of cleaning machines that can be used, depending on the specific cleaning needs of a facility. In order to help you choose the right cleaning machine for your application, choose the category that best suits your needs below: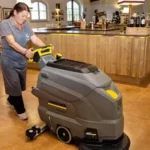 Hard Floor Scrubber to Clean Bamboo Floors
Bamboo flooring adds a natural touch to any space and requires proper cleaning to maintain its beauty. A Hard Floor Scrubber is an excellent tool to effectively clean your bamboo floor. The scrubber's powerful brushes can effectively remove dirt, grime, and other debris from the surface, leaving it looking brand new. The scrubber's adjustable settings allow for a deep clean, ensuring that even the toughest of dirt and stains are removed, making it a top choice for cleaning bamboo flooring. Additionally, the scrubber's compact size makes it ideal for use in tight spaces, making it easier to clean even the hardest-to-reach areas of your floor.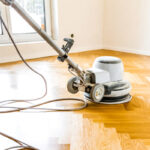 Orbital Buffer & Scrubber Machine to Clean Bamboo Floors
Cleaning bamboo floors with an Orbital Floor Machine is an effective and efficient way to maintain the beauty and longevity of the floor. The orbital action of the machine agitates and scrubs the surface, removing dirt, grime, and other pollutants. The machine's adjustable handle and lightweight design make it easy to manoeuvre and navigate around furniture, while the machine's soft-bristled brush helps to prevent damage to the delicate bamboo fibres. Regular cleaning with an Orbital Floor Machine can help to keep bamboo floors looking their best for years to come.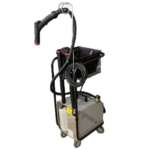 Steam Cleaner to Clean Bamboo Floors
Cleaning bamboo floor with a steam cleaner can be an effective way to sanitise and refresh the surface. The heat generated by the steam cleaner helps to kill bacteria and allergens, while the steam itself can lift dirt and grime without the need for harsh chemicals. The orbital floor machine is a versatile option that can be used for both deep cleaning and regular maintenance, making it a great choice for homeowners looking to keep their bamboo flooring in top condition.
Cleaning Equipment Services Ltd hire and sell a wide range of top-of-the-line cleaning equipment from industrial vacuums and floor scrubbers to pressure washers and floor polishers etc. We're always available to answer any questions and provide guidance on the best cleaning methods and procedures. We're also very patient and accommodating with explaining the operation and maintenance of the equipment.
Why is cleaning Bamboo floors important?
Bamboo flooring is an eco-friendly, durable, and aesthetically pleasing option for many homes. To keep your bamboo floor looking its best, it's important to clean it regularly and effectively. Cleaning machines can make this task easier and more efficient. Hard floor scrubbers, orbital floor machines, and steam cleaners are all great options for cleaning bamboo flooring.
Hard floor scrubbers are effective in removing dirt, grime, and stains from the surface of the floor. They use rotary brushes to scrub the floor, and the brushes can be adjusted for different types of flooring, including bamboo. Hard floor scrubbers are also equipped with water tanks, making them ideal for deep cleaning tasks.
Orbital floor machines are another option for cleaning bamboo floors. They use a circular motion to clean the floor, and they are equipped with adjustable pads that can be adapted to different flooring types. Orbital floor machines are gentle on the floor but still provide an effective cleaning solution.
Steam cleaners are also great for cleaning bamboo flooring. They work by heating water to create steam, which is then applied to the floor to break down dirt and grime. Steam cleaners are environmentally friendly, as they use only water and no harsh chemicals. They are also great for removing tough stains and sanitising the floor.
Conclusion
In conclusion, using a cleaning machine to clean your bamboo floor is a smart and efficient way to keep it looking its best. The right machine will depend on your specific needs and preferences, but all of these options are effective in keeping your bamboo floor clean, shiny, and hygienic. Why not check out our other tips and tricks here?
Check out our new range of steam cleaners at  https://www.steamcleansystems.co.uk/