If you're looking for cleaning machines to clean tile floors, there are many different types of cleaning machines that can be used, depending on the specific cleaning needs of a facility. In order to help you choose the right cleaning machine for your application, choose the category that best suits your needs below: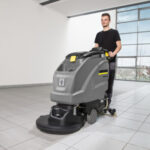 Floor Scrubber to Clean Tile Floors
Cleaning tile floors with a floor scrubber can be an efficient and effective way to keep the surfaces looking like new. The rotating brushes or pads of the floor scrubber agitate the dirt and grime, loosening it from the surface of the tiles. The machine then suctions up the dirty water, leaving the floor clean and hygienic. Using a floor scrubber can also save time compared to manual cleaning methods and is ideal for large areas of tile flooring. Whether you're maintaining a commercial or residential space, investing in a high-quality floor scrubber for tile floor cleaning is an important step towards keeping the surfaces looking their best.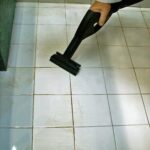 Steam Cleaner to Clean Tile Floors
Cleaning tile floors with a steam cleaner is an effective and efficient way to keep these types of floors looking their best. The high-temperature steam generated by the cleaner can kill bacteria, germs, and other unwanted particles, leaving the floors spotless. Additionally, the steam penetrates deep into the pores of the tile to dissolve even the toughest dirt and grime. This makes steam cleaning a great option for tile floors that are subject to heavy foot traffic or have been neglected for an extended period of time. To get the best results, be sure to use a steam cleaner that is specifically designed for tile floors and follow the manufacturer's instructions carefully.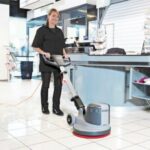 Orbital Floor Machine to Clean Tile Floors
Cleaning tile floors can be a daunting task, but with the use of an orbital floor machine, it can be made much easier. This type of cleaning machine is specifically designed to handle tough flooring materials, and it can effectively remove dirt, grime, and other types of stubborn stains. The orbital motion of the machine's brush allows it to get into every nook and cranny, leaving your tile floors looking as good as new. With the right cleaning solution and a little elbow grease, you can keep your tile floors sparkling clean and hygienic, making them a safe and healthy environment for everyone.
Why is Cleaning Tile Floors Important?
Cleaning tile floors in any commercial or residential setting can be a time-consuming and labor-intensive task, especially if you're doing it manually. However, with the use of cleaning machines specifically designed for tile floors, the task becomes much easier and more efficient.
There are several different types of cleaning machines that can be used to clean tile floors, including floor scrubbers, steam cleaners, and orbital floor machines. Each of these machines has its own unique benefits and advantages, making them ideal for different types of tile floors and cleaning tasks.
Floor scrubbers, for example, are great for deep cleaning tile floors, removing dirt, grime, and other stubborn stains that regular mopping can't handle. Steam cleaners, on the other hand, use heat and pressure to clean and sanitise tile floors, making them ideal for use in hospitals and other healthcare facilities where hygiene is of utmost importance.
Orbital floor machines, meanwhile, are great for routine cleaning and maintenance of tile floors. They are lightweight, easy to manoeuvre, and can clean large areas quickly and effectively.
It is important to clean tile floors regularly, not just for aesthetic reasons, but also for health and safety reasons. Dirty tile floors can harbour germs and bacteria, which can be harmful to people and pets, and can also contribute to the spread of illness and disease.
Investing in a cleaning machine for your tile floors can not only make the cleaning process easier and more efficient, but it can also help to ensure that your floors remain hygienic, safe, and healthy for years to come. Why not check out our other tips and tricks here?
Check out our new range of steam cleaners at  https://www.steamcleansystems.co.uk/
Cleaning Equipment Services Ltd hire and sell a wide range of top-of-the-line cleaning equipment from industrial vacuums and floor scrubbers to pressure washers and floor polishers etc. We're always available to answer any questions and provide guidance on the best cleaning methods and procedures. We're also very patient and accommodating with explaining the operation and maintenance of the equipment.